Why Friedman & Friedman PLLC, Attorneys at Law?

As a mother of two, founding attorney Sari Friedman understands how there is nothing more important in this world than the health and safety of your children. Whether you are headed towards divorce or if your divorce was already finalized years ago, matters pertaining to child custody and support are subject to change; therefore, whenever you are contending with a legal matter pertaining to your children, you have no choice but to hire the highest quality legal representation you can find in order to protect your interests and those of your children.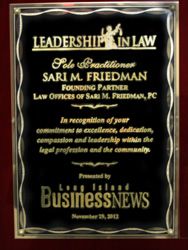 What sets Sari Friedman apart from other attorneys? She not only has over 35 years of experience fighting for the rights of parents and grandparents, but her stellar efforts have been recognized all throughout the legal community on many levels. For example, she was recently included as one of "New York's Women Leaders in the Law" for the year of 2016 by New York magazine. This is an honor that is only given to legal professionals who have qualified as New York's top female attorneys. She is also recognized as one of New York's "10 Best" in Client Satisfaction by the American Institute of Family Law Attorneys.
Sari was also named to New York's Legal Leaders Top Rated Lawyers in 2015 and 2016, a distinction only given to those attorneys in Long Island who have achieved the prestigious AV Preeminent® rating from Martindale-Hubbell® . In this same year, she was invited to join the National Advocates Top 100 Lawyers (Matrimonial & Family Law)! Additionally, she has been included in the Best Attorneys of America list by Rue's Ratings.
Attorney Sari Friedman has been presented with the Certificate of Achievement for the 2016 Long Island Power Women in Business Awards & Networking Dinner. This is in recognition for her services to the community. She has also been honored by SmartCEO Magazine with the 2016 New York Family Business Award.
Sari has additionally received the 2012 Leadership in Law Award by Long Island Business News. This award is only given to those individuals that have demonstrated a high level of accomplishment and leadership in their legal profession, and to those whose efforts have been recognized on Long Island. The Leadership Award recognizes the recipient's tenacity, hard work, dedication and skill in their profession and throughout the community, for all of these are requirements for the prestigious award. Sari was also recently named as a 2014 New York Metro Super Lawyer, a designation given to only 5% of the attorneys in New York State. Additionally, both attorney Sari Friedman and attorney Andrea Friedman were named to Who's Who as Top Attorneys in North America.
Attorney, Author, Lecturer & Quoted Resource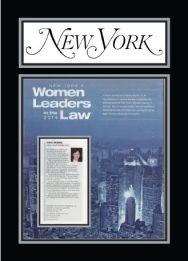 Sari M. Friedman is a regular lecturer for Marino Institute Continuing Education Seminars, she serves as general counsel for the Fathers' Rights Association of New York and Long Island, she has authored numerous articles on topics regarding matrimonial and family law, and she has been featured and quoted in notable news sources such as The Wall Street Journal, Newsday, the New York Law Journal, The New York Times, Long Island Business News and NYDailyNews.com.
On April 15th of 2007, attorney Sari M. Friedman was featured by Newsday as Businesswoman of the Year for New York by the National Republican Congressional Committee's Business Advisory Council. The Long Island Press also featured her in the column Fortune 52 by Beverly Fortune. This column was dedicated to honoring 52 Long Island women who had made substantial and lasting contributions to the Long Island community.
Sari M. Friedman was listed as Who's Who in American Law and Who's Who in American Professionals. On November 18th of 2009, Sari M. Friedman was honored by the Long Island Chapter of the National Association of Women Business Owners for her outstanding achievements in the business community. She was also selected as one of the Premier 100 Trial Attorneys in New York by the American Academy of Trial Attorneys.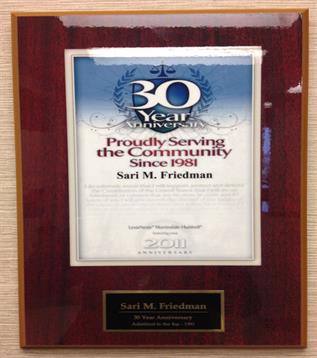 Her educational background includes earning her Bachelor's degree from Hofstra University in 1977, from there she went on to earn her Juris Doctorate (law degree) from Hofstra University School of Law graduating with honors and as a member of the prestigious Law Review. She was admitted to the New York State Bar in 1981, and after clerking for the Appellate Division Second Department she went into private practice primarily focusing on matrimonial and family law matters. As a highly respected attorney, lecturer, and author, she is periodically interviewed for various radio stations and television broadcasts.
As a highly qualified child custody attorney on Long Island, attorney Sari M. Friedman has what it takes to go to bat for you and get the job done. At a time when your child's future is at stake, you cannot afford to hire a green or inexperienced attorney with less than stellar credentials. When you invest in over 35 years of experience with Sari M. Friedman, you can be rest assured that your child custody or support matter is in good hands. Contact us today to schedule a consultation, we are here to give you the advice and guidance you need during this challenging time in your life and your child's.